Recipe
Grilled steak carpaccio & sesame tomato garnish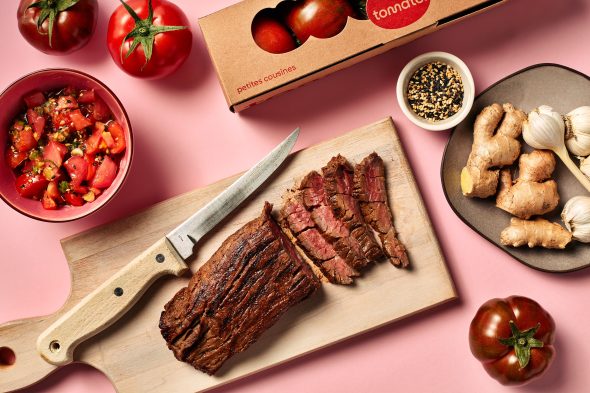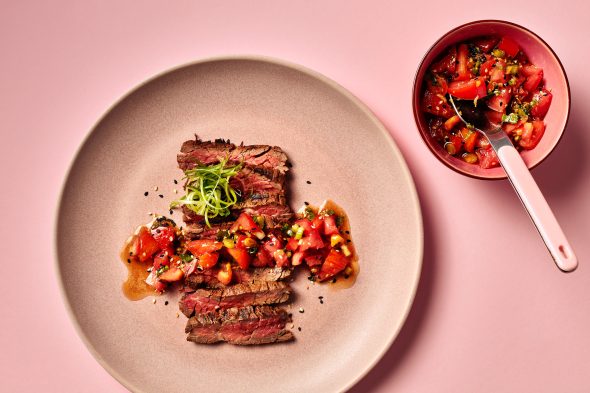 Variety

petites cousines

Portion

2 portions

Preparation

15 minutes

Cooking Time

10 minutes
An ideal barbecue recipe that's sure to please your guests. Use a variety of petites cousines or different colors of Mamas.
Ingredients
400 g beef (flank steak, sirloin or onglet)
Drizzle with oil
Salt and pepper to taste
For the sesame tomato garnish
2 "petite cousines" or "mamas" tomatoes, cut into pieces
1 green onion, thinly sliced
1 clove garlic, finely chopped
1 tsp ginger, peeled and finely chopped
1 tsp. soy sauce
1 tsp toasted sesame seeds
1 tsp. sugar or brown sugar
1 tsp sesame oil
Steps
Preheat barbecue to 400F. Lightly oil and season steaks.
Grill steaks for 4 to 5 minutes (depending on size), turning regularly.
Remove steak from barbecue, then let cool or chill in refrigerator.
In a bowl, combine all "tomato garnish" ingredients, then set aside.
Slice steak, then arrange on plates.
Drizzle with sesame tomato garnish to serve.
Preservation
Eat immediately. Does not freeze. Notes: You can choose to serve the rested meat straight from the barbecue, or chill it in the fridge and serve it later. It's also super convenient to make with leftover grilled meat!